Cedar, Coundly and Summit Lakes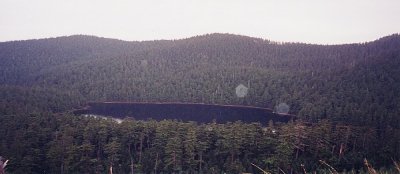 Definition of terms below
Location:
By Mt Rainier
Directions:
Head out Hwy 410, turn on to Hwy 165 and head towards the Carbon Glacier entrance of Mt Rainier Nat'l Park, as you go through Wilkeson take the left on your way out of town, follow the paved road until it splits, take a right and head up the gravel road, follow the road past the summer camp and take a left before you get to a gate, follow this gravel road down through a valley go up the other side, wind around this big hill staying straight, the road will split and take the right spur, the lake will be in the basin on the left side of the road.
Difficulty:
Moderate
Elevation +/-
4000 ft elevation gain
Distance:
7+ Miles Roundtrip
Rating:
9 out of 10
Fishing:
Good
Lake info:
Coundly Lake: el 4150, 16 acres, approximately 82 feet deep, brook trout
Cedar Lake: el 4200, 36.3 acres, approximately 78 feet deep, brook trout
Summit Lake: el 5440, 24.9 acres, approximately 155 feet deep, cutthroat/brook trout
Scenery:
Beautiful lake basins, meadows
Map:
Printable Topo Map
Trip Date:
June 8, 2001; 8:30am - 4:30pm roundtrip to roads end

Cedar, Coundly and Summit Lakes are well worth a afternoon or weekend visit. We opted for a day hike.

We almost did not get out of the truck because it was raining so hard. We waited for a short spell and the rain finally stopped-it did not start raining again until we were about a mile from my truck.

We followed the road above Cedar Lake to it's end, and there we found a trail leading off into the brush. So we followed the trail and 'by-golly' it went all the way to Summit Lake (yehaw). The trail is in great shape, meandering through the forest. The trail is relatively easy hiking until you near a ridge above Coundly Lake. It looked like there was a trail that split off and went down to Coundly Lake, but we opted to push on to Summit lake (in looking back we should have taken this trail, just so we would know where it came out at).

The trail follows the Rooster Comb which winds along the ridge. Sometimes the trail was 6 inches wide on a rocky ledge with a substantial drop off. There was still snow on the ridge and there are a few chutes we had to kick in foot holes to make it up. There is one grueling (seeming endless section) that is practically straight up and covered with exposed roots (this is were we began to sweat). But other than that the trail was quite a delight. After climbing the ridge behind Summit Lake the trail disappeared under 3 feet of snow. We just kept heading south looking for the rocky cliffs that surround Summit Lake. We peered through the trees and to our disappointment-Summit lake was nearly completely frozen. We stopped for a break and tried to catch some of the 8 inch trout along the shoreline-no luck.

After a nice break we retraced our steps back to the Rooster Comb, and kept looking for a nice trail cutting down to Coundly Lake. We ended up bushwhacking down to Coundly Lake because we did not want to walk all the back to were the trail split off on our way in. After a rapid decent over and under logs down a few ravines we made it to the lake. There is a great fisherpersons trail along 3/4 of the lake shore. I caught one little trout right off the bat (and released him), but after that nothing would bite. I tried numerous different lures (the one that worked was a Mepps #3 red and white spinner). I fished around the entire lake, checking out the scenery. I found 3+ camps near the outlet. These camps were disgusting-garbage everywhere (pop cans, beer cans, sardine cans--there was probably enough garbage to fill my backpack; on our return trip I will see about cleaning this stuff up). We found a trail that headed out along the outlet, thinking it might take us back up to Cedar Lake-- Wrong! We ended up a couple logging roads lower than where we had parked. So we got out the map and found our approximate location, and headed up through a clearcut-it was a brutal bushwhack. We ended up coming out about 40 feet from my truck-cool.

We had the trail and the lakes to ourselves, it was very peaceful.

Fishing-- was good in Coundly Lake, Summit lake was still 99% frozen (about 3 feet was thawed along the shoreline)-but we seen half a dozen fish swimming along the shoreline. Using a Mepps #3 red and white spinner)-cast out and start reeling immediately .

Do it again? Any time I have a chance.

Please Note: There is not a maintained trail to these lakes, it may be a dangerous adventure if you are not an experienced backcountry nut and/or don't have the correct equipment.



Choose another thumbnail from the list on the left, or return to the front page.